Layer-2 Applications
Pascal Layer-1 was designed as a scalable financial layer that transfers value between accounts. The major use-case here is payments. Pascal's technology does payments very well, arguably better than most other cryptocurrencies since it is not burdened with any scripting complexity.
However, the SafeBox design permits new and compelling use-cases that essentially re-purpose Pascal as a consensus and financial layer for external Layer-2 protocols. In these use-cases, Pascal serves as a Layer-1 protocol that supports a Layer-2 protocol in much the same way TCP/IP is a base protocol for HTTP. These Layer-2 protocols, applications and networks are collectively referred to as "dApps".
dApps operate separately from Pascal, use their own protocols, their own network connections and their own storage. They can integrate into Pascal in a variety of ways. Whilst the full technology-stack will not be disclosed in this white-paper, some discussion will be provided.
DATA OPERATIONS
Pascal provides an operation called OP_DATA that allow an account to send a data packet to another account. These packets can be public or encrypted. Encryption modes include ECIES encryption using sender or recipient key, or AES using a shared secret. These data packets are 255 bytes in length and include a 16 byte GUID key and 16 bit Sequence field that can be used to group packets into a larger logical data-stream. This approach provides a clear enveloping capability for Layer-2 protocols much in the same way that TCP/IP envelopes HTTP in networking.
DECENTRALIZED CONSENSUS LEDGER
Data Operations combined with cryptographically secure account histories can be used to implement decentralized consensus ledgers for a wide-variety of use-cases. Under this interpretation, an account history becomes a ledger of chronologically ordered statements made by Layer-2 nodes which cannot be forged, altered or tampered with by those nodes. These data messages embed the Layer-2 messages conforming to a Layer-2 protocol. Should any dispute arise between those Layer-2 nodes, this Layer-1 account history serves as the immutable audit log and authority of all the Layer-2 transactions. Layer-2 consensus emerges merely by examination of the Layer-1 account history alone. No trust is required between Layer-2 nodes whatsoever. Since an account history is cryptographically secure and intrinsically verifiable, Layer-2 nodes can validate their consensus ledgers without the Layer-1 blockchain or SafeBox. They only need to ensure the latest account state matches the account state in most proof-of-work SafeBox. This can be achieved by requesting a merkle-proof of the parent Account Segment from the Layer-1 network, a virtually instant operation.
PROOF-OF-STAKE OVERLAY NETWORK
Currently Layer-2 networks can utilize Layer-1 Pascal as a consensus-only layer, but not as a financial layer. In order to complete the Layer-2 integration, Pascal requires a mechanism to enable Layer-2 networks to authorize funds from Layer-1 Pascal accounts in a manner that Layer-1 miners are not required to participate in the Layer-2 business logic. The technology that permits Layer-2 networks to achieve this has been fully designed. The details of this technology remain undisclosed at this point in time until prototyping has been completed and verified.
EMBEDDED CHAINS
The decentralized consensus ledger scheme described above can also be used to maintain a set of block-headers of a side-chain, referred to as an "embedded-chain". The contents of the blocks from embedded-chains are not necessarily required to be included, only the headers. Under this interpretation, the SafeBox becomes a "Blockchain Container" capable of securing a myriad of blockchains (1 per account) where only one Layer-1 proof-of-work secures them all.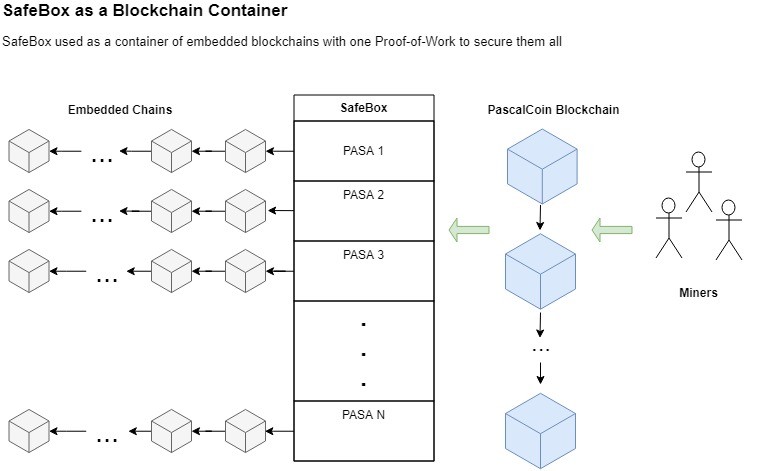 MONETIZED APIs
Due to Pascal's account-based model, a new form of dApp is enabled called Monetized API. A Monetized API is a reconceptualization of an account as a message-queue. Data-operations into the message-queue serve as "requests" and similarly, data-operation from the message-queue serve as "responses". Since requests and responses contain data and monetary value, a monetized API system is created. Monetized APIs are already in deployment such as GetPasa.com, which receives requests containing a public key and responds by sending an account to that key. Similarly, an entire class of "smart-agent" applications are currently enabled by Pascal's SafeBox architecture.